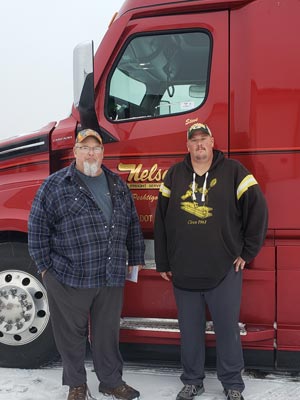 Looking for a place to call home? Nelson Freight offers a family friendly atmosphere where every employee knows every employee.
We work with you to help you achieve work-life balance that works for you and your family. Our dispatcher, Don, has worked for Nelson Freight since 1998 and is a key component in our success and driver retention. He understands the importance of home/family time. Nelson Freight has a rider policy for those drivers wanting to spend more time with their spouse.
Most of our routes are in the Midwest and our fleet of trailers consist of dry vans and Conestoga flatbeds. All our drivers are given the latest models of trucks and tablet based ELD communication.
We understand the importance of insurance and offer discounted premiums for your medical, dental and vision insurance. The company offers paid life insurance and short-term disability for each employee.
A simple IRA is available, and Nelson Freight matches up to 3% of your investment. Our employees are paid weekly through direct deposit.
If you are hardworking and safety conscious; and would like to work with a winning team, Nelson Freight Service, Inc. is the place to be!
If you have any questions or are interested in a position at Nelson Freight Service, Inc. please contact us.